I was keen to support a local sight based charity that I could get to know a little for this challenge. My grandfather became almost completely blind (and deaf) in his later years yet he was always an inspiration to the people he met, despite his disabilities. Later, whist I was doing my PhD at university, I spent some time as a mentor for the disabilities service, and one thing I quickly learnt was that with the right support, people with all kinds of disabilities can go on to succeed in anything they try.
I wasn't sure quite what to expect when I went to see Somerset Sight in Taunton, but was delighted to meet a great variety of hard working and committed individuals all working towards the same goal of helping people with sight loss to live a full and independent life. When Linda and Lina started explaining just how many people they support I was amazed at just how far a small budget could go.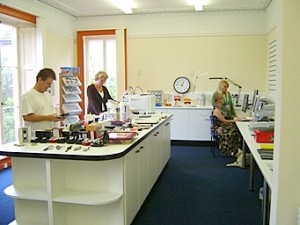 Somerset Sight organise and run a large number of leisure activities, provide services and training, and have computer facilities loaded with the latest software for the visually impaired. The most interesting part for me was their Resource shop, which has everything in it that a person with partial or no sight could possibly need from talking clocks to devices which tell you the colour of a garment, to amazing computer systems which scan and re-display articles in large black and white format. Impressive. They also manage a huge number of one to one volunteers who often end up becoming great friends with the people they support for years to come. Its this kind of distributed support network that really makes a difference to peoples lives.
I cant imagine going about my daily life not being able to see what was around me, or take in the sights I have been so used to my whole life. Losing your sight must be such a devastating loss. Luckily, with an army of volunteers and as much funding as they can get, organisations like Somerset Sight can make a real and very genuine positive difference in peoples lives.
So, please please sponsor me by clicking the red Virgin money giving link on the right, and before you navigate away from this page check out the fifteen (slightly tongue in cheek) additional reasons to donate money if you need any more persuasion!